Top 20 things to do in san francisco area
top 20 things to do in san francisco area
21 Best Things To Do In The San Francisco Bay Area, As Explained By Locals
New York was freezing, and I had to leave. Thanks to JetBlue and a $63 round-trip ticket (yes, you read that right), I headed to the San Francisco Bay Area where the weather was better and the food, too, gave NYC a run for its money.
While there, I worked from various cafes, friends' homes and random benches in parks. I decided to ask locals for their best non-touristy activities (and added some of my own input) for visitors to the city who don't want to stick out like sore thumbs, but do want to see the city (and eat!) like the locals do.
So start learning to love Karl the Fog. train your stomach to handle mass amounts of delicious food and beer, and make sure you do everything on this list. (Some responses have been edited for clarity. )
1. Eat the best Indian food in a Travelodge Hotel.
707 Redwood Highway, Mill Valley
Totally off-the-beaten-path, the best Indian food in the county is called India Palace. College student Marley R. has gone there for her birthday almost every year: "I like the people there — they're so friendly and have all worked there since before I was born. I love the chicken tikka kabob, and my dad loves the chicken tikka masala. Super inexpensive all-you-can-eat buffet lunch, beautifully decorated and just full of tradition for my family!"
2. Get to the top of Grizzly Peak .
50 Whitaker Avenue between Miller and Sterling Avenues in Northeast Berkeley
"I think either hiking to Grizzly Peak or just enjoying the lookout (you can drive up there) would be my number one. You can see the entire Bay Area from there." — Lizzie C.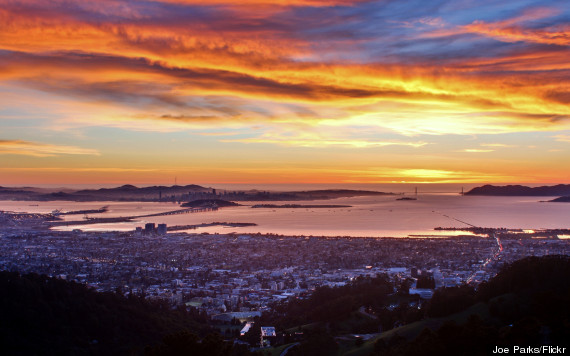 3. Take in a drag show over Sunday brunch.
450 Powell Street, San Francisco
"Go to the Starlight Room for the best Sunday Brunch and drag show you've ever seen." — Amanda L.
4. Do drinks at the Redwood Room where the paintings have eyes.
Clift San Francisco, 495 Geary Street, San Francisco
Located within the Clift Hotel, the atmosphere (with real redwood paneling!) will make you feel like a high roller, even if you're not. The paintings within the bar actually breathe and move, so while you're sipping an expensive cocktail, all eyes could (literally) be on you.
5. Eat the best goddamn cinnamon roll you'll ever have in your life.
2132 Oxford Street, Berkeley
Cinnaholic's delectable cinnamon buns aren't for the weak, but they are for vegans and anyone else with a major sweet tooth.
7. Walk through Clarion Alley and eat at The Sycamore.
Between Mission and Valencia Streets and 17th and 18th Streets, San Francisco
Affectionately called "San Francisco's Hidden Mural Utopia ," this mix of political angst and incredible art has been around since 1992. If you're lucky, you might even get to see an artist starting on their next project. To make more of a trip out of it, walk through the trendy shops in the Mission District, hit up a few thrift stores, and get lunch at The Sycamore and sit in the back area.
8. Get yourself to an underground wrestling match.
630 3rd Street, Oakland
"On the first Friday of every month, Oakland Metro Operahouse hosts Hoodslam, where wrestlers/performance artists 'perform' for fans. It's insanely awesome, and on the first Thursday of every month there are also variety shows." — Alan B.
9. Attend Audium .
1616 Bush Street, San Francisco
Straight from Huffington Post Deputy National Editor Carly Schwartz (who founded HP San Francisco), you have to visit Audium — a "sound-sculptured space" that's also one of San Francisco's best-kept secrets. Composer Stan Shaff's extraordinarily unique space envelops "listeners in sounds that move past, over, and under them " in a dark theater. You won't find another one like it in the entire world, so add it to your bucket list now.
10. Stuff yourself at Burma Superstar.
309 Clement Street, San Francisco
Burma Superstar, that is what you are. If you don't eat here, you didn't visit San Francisco. With over 5,000 reviews on Yelp. it's pretty clear that this take on traditional Burmese cuisine is doing everything right. Come prepared with an empty stomach to devour the coconut rice, indulge in the Rainbow Salad and try the Chili Lamb. Better strategy: bring friends so you can try every dish on the menu.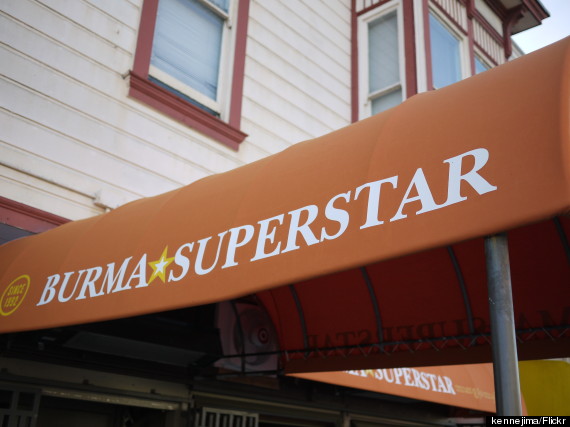 11. Go to Cream .
Kinda touristy, but totally worth the hype. "Cream" translates to "Cookies Rule Everything Around Me," an awesome venue where you make your own ice cream sandwich from freshly baked cookies and delicious ice cream. Cream is located all over the Bay Area, so just Google Map it and GO.
12. Schedule a visit to the Institute of Illegal Images.
20th Street, Mission District, San Francisco
"It's this collection of psychedelic stuff — this old, wild house with awesome art," says San Francisco-based Andrew Hart. front page editor at The Huffington Post. The owner of the Institute, Mark McCloud, has over 30,000 sheets and tabs of blotter paper in this acid art museum of sorts with free entry.
13. Do tea at the Palace Hotel.
2 New Montgomery Street, San Francisco
This elegant hotel has high ceilings, beautiful chandeliers and an incredibly warm staff. Go for Afternoon Tea. and stay for the chocolate torte with gold leaf if you want to indulge in something fancy but not totally expensive.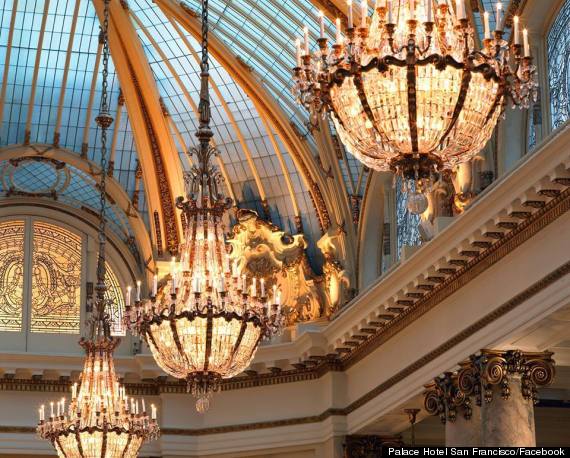 14. Walk around Albany Bulb.
1 Buchanan Street, Albany
"The Bulb is definitely odd and some would say weird, but it's also really, really beautiful. It's a former landfill that has all this cool art you can walk around and explore. If you don't want to do something mainstream and touristy, this is it." — John K.
15. Eat oysters for $1.
655 Divisadero Street, San Francisco
"Go to Bar Crudo for happy hour every night of the week. There are dollar oysters and all-around fantastic food. Their best dishes are about $5 and their chowder with bacon — my God it's smoky and so good." — Dylan H.
16. And toast that will set you back $5 a piece.
736 Divisadero Street, San Francisco
"If you want to go to a place where all the baristas are listening to Joy Division and people are paying for expensive toast, go to The Mill. Yes, you'll pay a price for the toast, but it's delicious and it's a meal." — Dalton L.
17. Camp (or strip) at Stinson Beach .
Marin County
"For people who are visiting that aren't 'city people,' I always take them to Stinson Beach for a few days to camp out, drink and grill. There's also a nude beach if you're into that sort of thing." — Allison P.
18. Watch a f*****g glorious sunset.
Marin County
"Drive a car up to Bolinas Ridge to watch a fucking glorious sunset. Sometimes the sun looks like it's setting above the fog layer, so it sets INTO the fog and just lights up everything. So amazing." –Brendan A.
19. Do date night at the slides.
70 Corwin Street, San Francisco
"The slides at Seward Mini Park are really lovely. They're great for dates and just really fun overall." — Brennan M.
21. Eat sausage, keep drinking.
545 Haight Street, San Francisco (multiple locations )
Head to Rosamunde Sausage Grill for the best wild boar sausage you'll ever have. But get drinks at the Toronado first, and finish your meal by downing drinks at Noc Noc a few doors down. — Ralph P.
Visit The Anchor Steam Brewery
The day I first moved to San Francisco, I dropped my suitcases at my friend's Marina apartment and wandered down Chestnut Street to Monaghan's, where I ordered Anchor Steam on draft. And It tasted different. A little colder, a little fresher. It's worth making a reservation to explore the source (for free) on a weekday afternoon. The chipper tour guide who moonlights as a DJ, the churning assembly line and snippets of city history would be worth it alone — but the tastings at the end bring it all home. More info here .
Share this slide: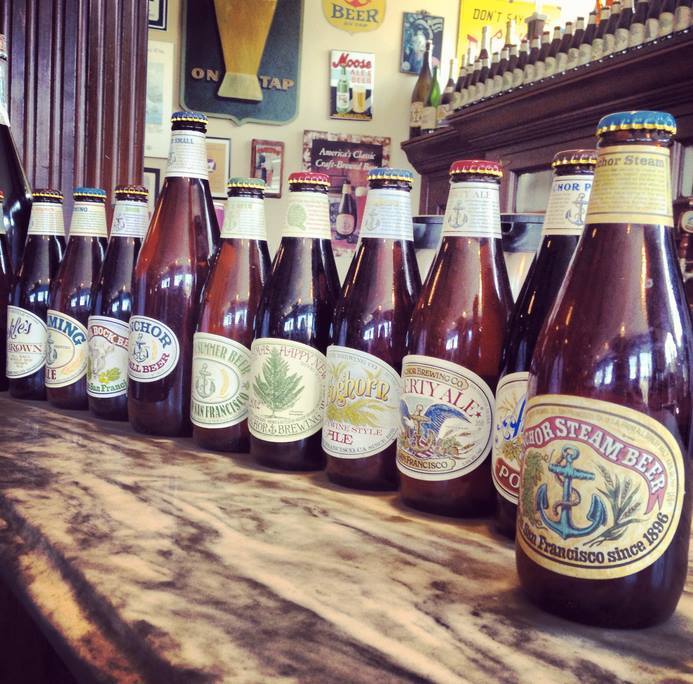 More:
SUBSCRIBE AND FOLLOW
Get top stories and blog posts emailed to me each day. Newsletters may offer personalized content or advertisements.
21 Best Things To Do In The San Francisco Bay Area, As Explained By Locals
NEW! HIGHLIGHT AND SHARE
Highlight text to share via Facebook and Twitter
CURATED FOR YOU
Generated from related, personalized and trending articles. View your news homepage.
CONVERSATIONS
Copyright &copy 2016 TheHuffingtonPost.com, Inc. "The Huffington Post" is a registered trademark of TheHuffingtonPost.com, Inc. All rights reserved.
Part of HuffPost Lifestyle
san francisco,san francisco restaurants,best of san francisco,visit-san-francisco,karl the fog,grizzly peak,berkeley,cinnaholic,harry denton's starlight room,redwood room,the clift hotel,audium,clarion alley,clarion alley san francisco,oakland hoodslam,burma superstar,cream,institute-of-illegal-images,institute-of-illegal-images-san-francisco,the palace hotel,albany bulb,bar crudo,stinson beach,the mill,bolinas ridge,seward mini park,seward slides san francisco,sausalito,sausalito houseboats,travel tips,u.s. destinations:New York was freezing, and I had to leave. Thanks to JetBlue and a $63 round-trip ticket (yes, you read that right), I headed to the San Francisco Bay Ar…

top 20 things to do in san francisco area
http://facil-webshop.com/top-20-things-to-do-in-san-francisco-area/
Top 10
top 20 things to do in san francisco area 21 Best Things To Do In The San Francisco Bay Area, As Explained By Locals New York was freezing, and I had to leave. Thanks to JetBlue and a $63 round-trip ticket (yes, you read that right), I headed to the San...
oleg2911k@yandex.ru
Administrator
ALL TOP